The wait is nearly over, in just over a week's time families across the globe will be gathered around the Christmas tree and gorging on turkey over various Zoom calls. Though we can't all be together this year due to the current situation, gaming has truly helped to not only distract us from the global crisis, but also connect one another in various unique ways. Some may have yet to complete their Christmas shopping, if you happen to be one of those people, why not check out our current recommendations of Nintendo Switch games for some inspiration. There's something for just about everyone in our 12 Games of NintyMas!
Leon's Recommendations
Mario Kart Live: Home Circuit
This recommendation may be more difficult to get your hands on due to the fact the title is physical only, but it may be worth it for any big Mario Kart fans out there. Mario Kart Live: Home Circuit is the perfect example of augmented reality done extremely well, blurring the lines between the world of Mario Kart and real life™.
True, the game is more expensive than others on this list, but once you factor in the fact you get a decent RC car with decent AR capabilities, allowing you to play Mario Kart in your kitchen, then the price tag does seem a little more worth it and it's definitely something that should be a lot of fun to play Christmas morning. Be sure to check out our review on the title for a more in-depth look at Mario Kart Live… we also have a hands-on video too!
It's important to note that, due to its physical nature, Mario Kart Live is a very sought after item, though I have noticed it frequently coming in and out of stock, so it may be worth setting up some stock notifications. The most important thing to remember though is to never spend more than its RRP of £99.99.
Filament
I'll be completely honest, I don't play the games by smaller studios nearly as much as I probably should, but that in no way means they aren't worth playing… Filament is a game that is definitely worth playing.
Filament is a fantastic indie puzzler that is as beautiful as it is tricky. You arrive on an abandoned space vessel with its sole survivor trapped in the cockpit. You have to gradually return power to the ship by solving puzzles, controlling a little node to light up beacons using their trailing filament. There's a lot of variety of puzzles with each one becoming trickier than the last making it the perfect game for any brainiac of the bunch. It also includes a fairly compelling story with some amazing music. There's a reason I gave it a 4.5 in my review!
Paper Mario: The Origami King
Paper Mario: The Origami King has been an incredibly divisive game amongst its fans, personally speaking however, I would go as far to say that this has been my favourite Paper Mario Game to date.
Instead of copying The Thousand-Year Door, adhering to the wants of a small group of begrudging fans, The Origami King does its own thing within the series and this time, unlike Sticker Star, it works incredibly well in my eyes. The battling system is incredibly unique in which you have to solve puzzles in order to make the most out of combat, the boss battles are incredibly fun and engaging, the music is just fantastic, and, as always, the writing is absolutely on point. I had an incredible time playing Paper Mario: The Origami King and if after reading my review, you think someone you need to buy a gift for will enjoy it too, why not gift them this gem this Christmas?
Darren's Recommendations
Pokémon Sword & Shield (and Expansion Pass)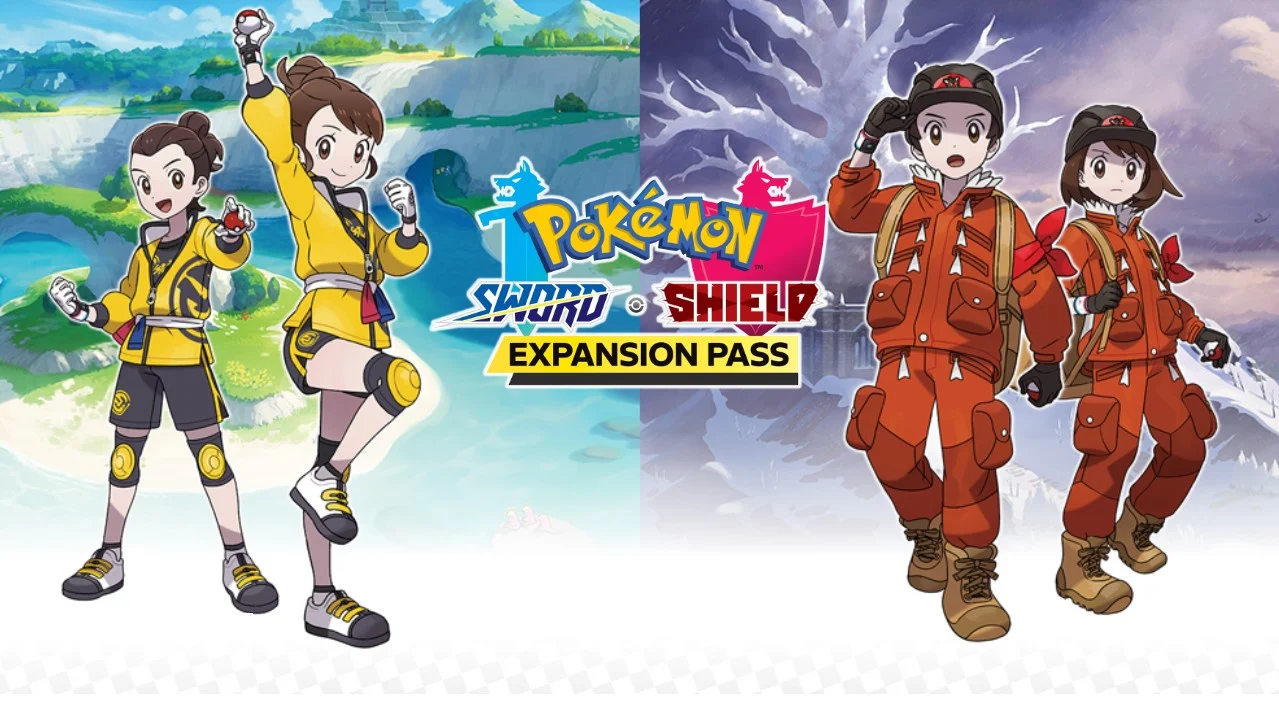 Despite Pokémon Sword & Shield arriving in 2019, its Expansion Pass enriched the world of Galar with new story content, and two brand new areas where you can encounter even more Pokémon. The Isle of Armor brought new cosmetics and a short yet enjoyable story, while The Crown Tundra enriched Dynamax battles by incorporating cooperative play.
If you or someone you know is a huge Pokémon fan, it's definitely worth checking out the Expansion Pass this holiday season. But if you have yet to explore the Galar region, then perhaps the Pokémon Sword & Shield plus Expansion Pass bundle will be under the Christmas tree this year!
51 Worldwide Games
2020 has been a pretty challenging year for everyone, and sometimes it's just nice to chill with some classic games that can be shared with gamers young and old. 51 Worldwide Games was the perfect lockdown game for me, offering a range of classic board game titles, and a few new games in this fantastic compendium. Whether you are playing locally with your family, or online with loved ones far away, there's something to enjoy. It's also reasonably priced at an RRP of £34.99, offering good value for money!
Pokémon Mystery Dungeon: Rescue Team DX
2020 was the year I was introduced to the Pokémon Mystery Dungeon series, one of the best things to happen to me this year. I had the great pleasure of reviewing Pokémon Mystery Dungeon: Rescue Team DX. While I didn't play the original game on the Nintendo GameBoy Advance and DS back in the day, I was impressed by this very different take on the classic Pokémon formula, battling through dungeons and recruiting other Pokémon to join me. If you have yet to explore this series, but want to see some story, emotion, great music and beautiful art in your Pokémon games, give this one a try! Then go on to play Pokémon Mystery Dungeon: Explorers of Sky (you can thank me later!)
Komodo's Recommendations
Xenoblade Chronicles: Definitive Edition
This year marks the tenth anniversary for Xenoblade Chronicles, as well as the fifth for Xenoblade X and the third for Xenoblade 2, making it quite a momentous occasion to release an enhanced remaster of the all-time classic Wii RPG. Filled to the brim with quests in the massive world of Bionis, a long-dead titan standing in opposition to its nemesis Mechonis in an endless sea, Xenoblade Chronicles: Definitive Edition will no doubt keep the keen adventurers busy for dozens of hours in this epic unsung gem in the RPG genre. Not only that, but anyone can hop right into its sequel on Switch effortlessly, though the alternate universe spiritual sequel, Xenoblade Chronicles X, still remains on Wii U.
Hyrule Warriors: Age of Calamity
Three years have passed since The Legend of Zelda: Breath of the Wild arrived with the triumphant launch of the Switch, setting expectations for what an open world Zelda can be and keeping people curious about what really happened one hundred years ago in Hyrule's calamitous past. Well, Nintendo and Koei Tecmo have provided the answer with Hyrule Warriors: Age of Calamity, an unexpected shift from the melancholic exploration of before, now thrust into an action packed war against the great Calamity Ganon. Even if you think you know what happens, the events that occur might end up surprising you, so keep your wits about you!
CrossCode
Every Christmas, we always end up with that one gift you never expected to get, never actually asked for, but end up adoring nonetheless. My suggestion for such a gift would be an indie game, the one of which I ended up enjoying the most this year being CrossCode. Set within an in-universe MMO, CrossWorlds, you play as an amnesiac named Lea trying to rediscover her past of which might be locked away within the code of the game. This retro inspired action-RPG is packed with fun characters and dialogue, diverse locales and a sense of humour that deliberately pokes fun at how nonsensical some elements of videogames are compared to the real world, it's an ideal pick for someone looking for something different this year.
James's Recommendations
Animal Crossing: New Horizons
Animal Crossing is a series which has captivated me ever since I first learned of its existence in the pages of N64 magazine, back when it was known as Animal Forest. Over the years I've poured hundreds of hours into the core entries in the series and fallen in love with their unique style of gameplay. As a result, I was eagerly anticipating New Horizons and was delighted when it more than lived up to my expectations. The Switch is the perfect system for an Animal Crossing game and the game feels more accessible than ever before. The more structured approach to the early parts of the game, with the addition of systems such as crafting and Nook Miles gave me that much more incentive to keep coming back and playing each day. The continuous updates from Nintendo, plus the addition of an island designer feature still have me coming back for more, nine months on from its release. In a year that's been challenging for us all, New Horizons is the perfect escape.
Super Mario 3D All-Stars
Super Mario 3D All-Stars is simultaneously the easiest and most difficult recommendation to make on this list. It's the most difficult in the sense that this is an incredibly lazy compilation on Nintendo's part. They could have done so much more with these games to make this a really special package rather than just giving us HD ports of the first three 3D Mario games. That said, it's still incredibly easy to recommend because the games are just so good! Super Mario 64 is still a remarkable example of 3D platforming done right, it does show its age in places but for the most part, it's an absolute blast to play. Super Mario Sunshine is home to some of the most frustrating moments in any Mario game but it has some sublime platforming sections and some truly excellent level design. As for Super Mario Galaxy, it remains as good an example of a 3D Mario game as you could hope to find and feels as fresh and inventive today as it did upon its release back in 2007. Lazy or not, this is a compilation of three of the finest 3D platformers ever made and is absolutely essential, whether you're playing for the first time or revisiting them after many years.
Pikmin 3 Deluxe
The Pikmin series has long been one of Nintendo's most underrated titles, combining accessible, yet challenging real-time strategy gameplay with Nintendo's unique charm and presentation. Yes, it's another port, but Pikmin 3 was one of the finest games on the Wii U and it deserves to be available on a system where it can gain the audience it deserves. This Switch port takes the Wii U original, cleans up the performance and adds several new modes, including new difficulty options and side missions.. Although I had my concerns about how it would control, these concerns were quickly alleviated thanks to a number of QoL improvements and it instantly feels at home on the Switch. Pikmin 3 is a really special title and I loved the opportunity to revisit it on the Switch, whether you're a series regular or a newcomer to the series it's a more than worthy addition to your Switch library.
---
Found something that may make a good gift? We hope our list helps you out with any last bits of Christmas shopping you have left to do. If not, then why not check out our recommendations from last year, or even some of our reviews?
Thank you everyone for reading NintyBuzz this year, and in case we don't have anything else to write before next week, we wish you a Merry Christmas!
I am a huge Nintendo fan, hence why NintyBuzz exists. I especially love all things Zelda and Metroid. NintyBuzz was started by me back in the Summer of 2014, it started out mainly as a hobby, though the site has gradually grown, and I hope it grows for many years to come!