My first forgotten franchises article extolled the virtues of Nintendo's wonderful Wave Race series, a franchise which is long overdue a comeback. The logical next step in this series of articles would then be to continue looking back at Nintendo's other forgotten sporting franchises – the thrilling, off-road racer, Excitebike or perhaps their exhilarating snowboarding series, 1080. Who needs logic though? Instead, let's take a look back at the Kururin series!
If you're still reading this then there's every chance that you're sat with a blank look on your face, after all, the Kururin series is one of the more obscure titles in Nintendo's extensive vault of properties. The series began with Kuru Kuru Kururin, a puzzle game developed by Eighting and released on the Game Boy Advance at launch way back in 2001. Kuru Kuru Kururin wasn't exactly set up for success by Nintendo; the Game Boy Advance launched with a hugely impressive line-up of games including Castlevania: Circle of the Moon, Tony Hawk's Pro Skater 2 and Rayman Advance. Nintendo themselves released Mario Advance (An enhanced port of Super Mario Bros 2) and F-Zero: Maximum Velocity. Clearly, Kuru Kuru Kururin, as a brand-new franchise, was up against it. Not only that, but it didn't even launch in North America! Here's the real kicker though, Kuru Kuru Kururin was quite possibly the Game Boy Advance's best launch game!
The concept of Kuru Kuru Kururin is, like all good puzzle games, extremely simple. As the player, you control a helicopter (known as a helirin in the Japanese version), which is depicted on screen as a slowly spinning stick. Your task is to manoeuvre it through a series of increasingly complex mazes without hitting the walls. The challenge comes from the constant rotation of the stick which means that careful planning and patience are vital to progress through the levels. Though early levels consist of simple training stages, the later stages of the game can be excruciatingly difficult. Fortunately, the game has an easy mode, which shortens your stick to half the usual size and makes completing the levels much more manageable, though still challenging. Kuru Kuru Kururin also has extensive replay value, with bonuses awarded for completing levels without taking damage and record times to set and beat, it even has single-player cartridge multiplayer! Not only that but Kuru Kuru Kururin even has a story behind the levels, with the helicopter journey being a mission undertaken by the titular character, Kururin, to rescue his lost family. Kuru Kuru Kururin was fantastic fun and one of my personal favourite games on the system. It also reviewed largely well and was a moderate commercial success, despite the competition and lack of a US launch (though it did eventually arrive on the Wii U eShop in 2016), something which led to two further games before the series went dark.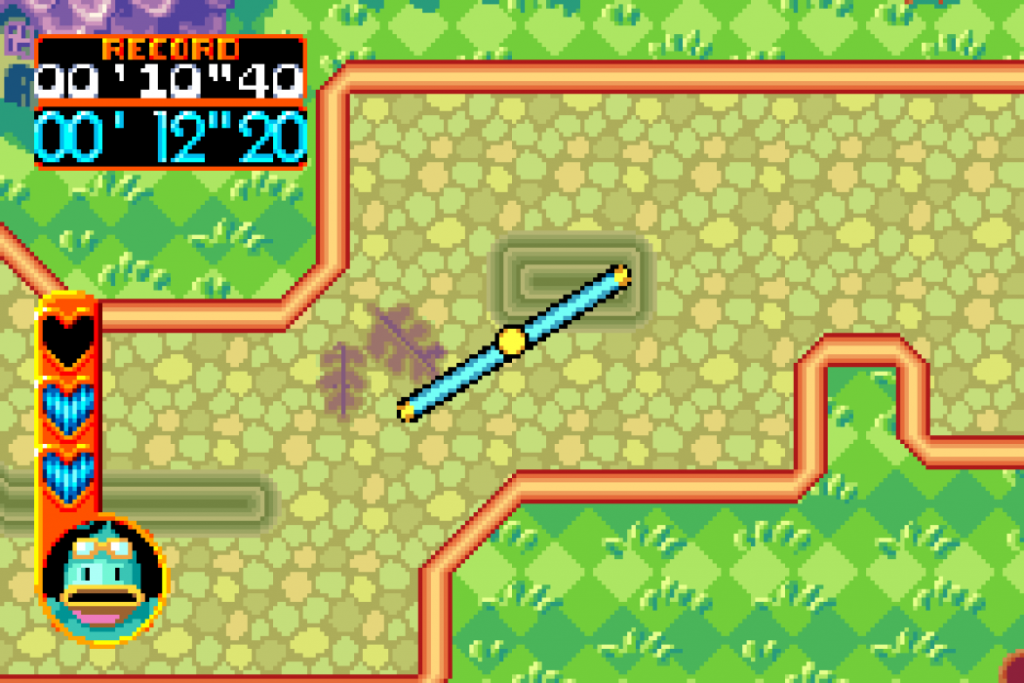 The first of these games was Kururin Paradise, a direct sequel which was once again released on the Game Boy Advance, this time only in Japan. Fortunately, due to the Game Boy Advance being region free and Kururin Paradise being a game which doesn't require extensive reading, I was able to import and play through this one. Kururin Paradise is much the same as the first, with the same concept being applied to an even more challenging set of stages. Minor additions include more control over the speed of the helicopter and mini game-like boss stages which don't require the use of the helicopter. Kururin Paradise certainly wasn't revolutionary but it was more of the same and for many fans, myself included, that was enough.
The last entry in the series was another Japan only title, this time released on the GameCube, called Kururin Squash! This entry didn't offer much in the way of new features, following the same gameplay styles as the previous two games. It did however add collectible coins to the stages which can be used to buy items. It also rejigged the boss levels, with them no longer following a minigame format and instead playing like the other entries in the series. Being a GameCube title, it also employed full 3D graphics, though it still continued to use the top down perspective of its predecessors. Although a release outside of Japan was rumoured, Kururin Squash sadly never left its homeland, despite the dearth of software on the GameCube at the time. It would also be the last game released on the series, though that wasn't the last we'd hear of Kururin who made an appearance as an assist trophy in Super Smash Bros Brawl.
The chances of the Kururin series making a return seem to be slim at best, with the series receiving little attention from Nintendo other than an eShop re-release on the Wii U and even being dumped as an assist trophy after Super Smash Bros Brawl. However, Kururin's appearance as a spirit in Super Smash Bros Ultimate would indicate that Nintendo haven't completely forgotten about this franchise. So, what could a return to the Kururin franchise look like in 2020?
The way I see it, there's only one real option for the franchise to make a comeback. Kururin isn't a big budget, AAA re-release and it never was. Nintendo aren't diverting Mario's budget towards an all-singing, all-dancing reboot of Kururin. If Nintendo were to bring Kururin back then the only logical step would be an eShop release. The good news is that Kururin would be absolutely perfect for this, it's the ideal game to dip in and out of and the short levels and extensive replay value make it an absolute dream title for a handheld. Although the GameCube title used 3D visuals, they were completely unnecessary and likely only used because at the time everything had to be 3D! With 2D visuals back in fashion, the crisp and colourful art style of the first two games would be a fantastic fit for the Switch. Not only that, but with two previous titles which never released outside of Japan they have a plethora of levels which they can cherry pick from to create the ultimate Kururin experience.
Kururin fits wonderfully into the same niche of eShop only puzzle titles such as the hugely underrated Snipperclips and BoxBoy! I personally think it would make a fantastic addition to the Switch library and if priced correctly could be a big hit. The Switch and the eShop platform create the perfect opportunity for a franchise like this to return. Nintendo, if you're listening, make it so!
I have been gaming for 30 years, starting mostly with PC Gaming, where I developed a penchant for classic point and click games. Over time I discovered Nintendo, starting with the Game Boy and the Super Mario Land games. Here, my love for Nintendo grew as I discovered many of their other franchises, from Zelda to Pokémon. These days I play a bit of everything but Nintendo and their unique creativity always keeps me coming back for more.