UPDATE – Closing date extended to 31st October 2014
Yesterday I posted a brand new Fan Concept article all about my concept for Metroid Prime 4 and I asked you to stay tuned for today as we have something exciting to announce. Well, today has come and we have decided that to celebrate the recent announcement of the Mario Kart 8 Crossover DLC packs, we'd run a little competition where you could win yourself the Mario Kart 8 AOC Bundle Pack… or at least the eShop credit to pre-purchase it!
Check out the details on how to enter after the break!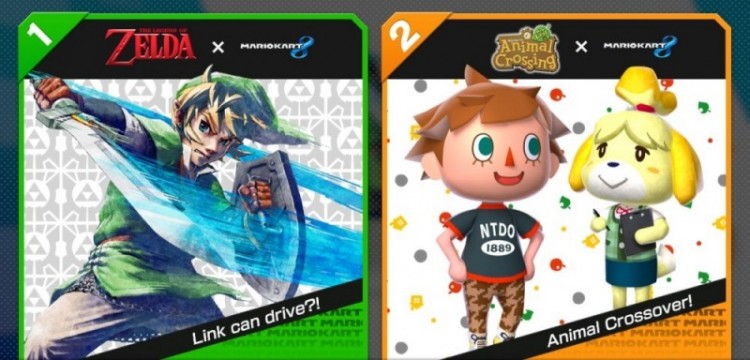 A few days ago it was announced that Mario Kart 8 will be receiving premium DLC which will add extra characters, extra vehicles and extra courses. As this is a sign that Nintendo could possibly release more DLC in the future, we ask you, the readers, to design a Mario Kart 8 track that you would like to see in the future [please note that these will not be sent to Nintendo]. All you have to do is draw or writeup a description of your own creation of a track. As the DLC pack includes crossovers between different franchises we will not limit you to base it solely on Mario and Donkey Kong games, you can base it off of any Nintendo franchise!
At the end of submissions, we will go through each entry and grade them based on creativity, originality and detail. Basically try to be creative with your track, don't just create a plain figure-of-eight track, put in some anti-grav or flying parts [obviously don't make it too complicated either], it needs to be original, meaning try not to make the track too similar to an existing track, and finally try to be as detailed as possible with your drawings or descriptions.
The top three submissions will be featured in a future Fan Concept article, and the reader who receives first place will also receive £15/€15/$20 eShop credit, that is enough to purchase the Mario Kart 8 AOC Bundle with credit leftover for other downloadable titles!
Before you start, here's the overview of the competition with some rules you and your entries much follow:
The 1st place winner will have their submission featured in a future Fan Concept article as well as £15/€15/$20 eShop Credit
The 2nd and 3rd place winners will have their submission featured in a future Fan Concept article
The winners will be announced around the same time the first pack gets released in November 2014
The prize is only valid for those who have access to a Nintendo eShop which uses GBP (£), EUR (€) and USD ($), if you aren't from a territory that uses those currencies, you can not win
You must be at least 7 years old to enter, anyone under 16 must seem parental permission first
All entries must be received by Friday 31st October 2014 at 6pm UK time, any entries received after that time will not be valid
All entries must include the title of the track, the game the track is based on, a detailed description of the track and a desired display name, a sketch/drawing of the track is completely optional and is not required
Any submissions which include inappropriate content will be disqualified
You are limited to two submissions, any more will be ignored
The first place winner will be notified via email, if you do not reply within 48 hours then the prize will be forfeited to a runner up
We will not share any personal information you may send to us
Please send all entries to fanconcept@nintybuzz.com with the subject line "Mario Kart 8 Fan Concept Competition"
Have fun!
Good luck and have fun!
I am a huge Nintendo fan, hence why NintyBuzz exists. I especially love all things Zelda and Metroid. NintyBuzz was started by me back in the Summer of 2014, it started out mainly as a hobby, though the site has gradually grown, and I hope it grows for many years to come!