Last week, Nintendo released a schedule of upcoming games for the Wii U and 3DS/2DS. It came to our dismay that Captain Toad: Treasure Tracker would be delayed to Q1 2015 in Europe, though it was a nice surprise seeing that Nintendo haven't completely forgotten about Dr. Kawashima's Devilish Brain Training with a TBA release slapped onto it.
Valentine's day, a day where all the card companies scam those deeply in love to show their affection for each other for one day by purchasing cards and cuddly plush gifts that will probably be thrown away the next day [you should be doing it EVERY day and be spontaneous about it]. Perhaps your boyfriend constantly forgets your birthday, or maybe your girlfriend is late for dates, if that's the case then 'Dr. Kawashima's Devilish Brain Training Can You Stay Focused' is the perfect Valentine's day gift for your partner [complete with a ridiculously long title]. According to UK supermarket giant, Tesco, Devilish Brain Training is set to release on the 14th February 2015 in the UK, just in time for lover's day. The only problem I see with this release though is the fact that the 14th February next year is actually a Saturday yet Nintendo have a track record of releasing their games on a Friday.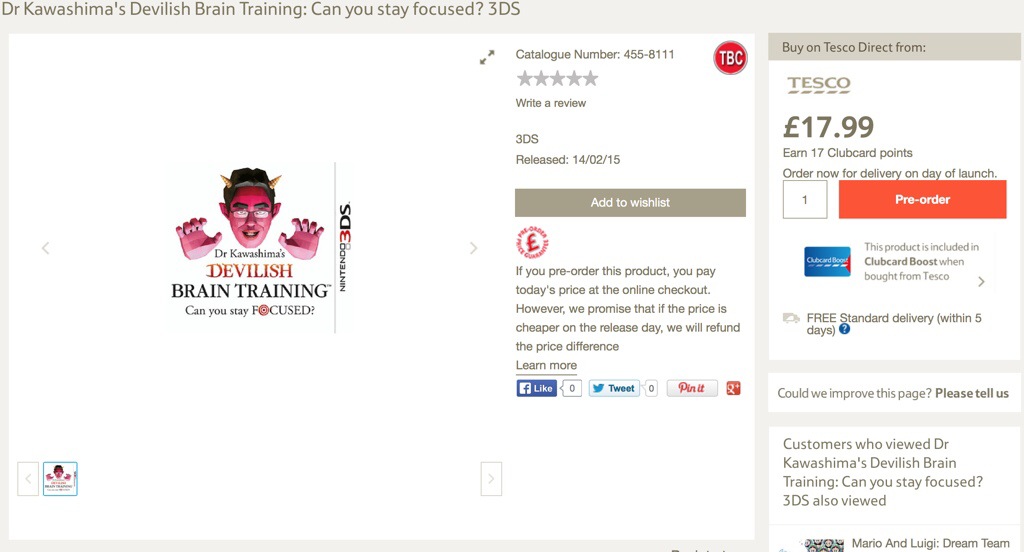 Either way, this date is quite welcome seeing it has been over two years since its release in Japan and America. And what's better is the fact that Tesco is offering the game for £18, plus if you are member of their Clubcard Loyalty scheme, you can double up your points value for this release for a limited time!
What do you think of this news? Is it the real street date or is it a tentative date?
UPDATE Just had a peek on Zavvi's website, and they have it listed for a 7th November 2014 release, which is a Friday!
I am a huge Nintendo fan, hence why NintyBuzz exists. I especially love all things Zelda and Metroid. NintyBuzz was started by me back in the Summer of 2014, it started out mainly as a hobby, though the site has gradually grown, and I hope it grows for many years to come!