It has been twenty-two years since HAL Laboratory and Pax Softnica developed Pokémon Snap for the Nintendo 64 and, for the longest time, Pokémon fans like myself have wanted to see a new addition to the series. But as the years went on, I began accepting it as a bit of a pipe dream. So when New Pokémon Snap was announced back in June 2020, it came as a bit of a shock! Did they actually do it? Are they really making Pokémon Snap 2?
Please read my review below to find out whether its successor captured my excitement, or was I left feeling a bit negative.
New Pokémon Snap
Nintendo Switch
Developed by BANDAI NAMCO Studios
Published by Nintendo and The Pokémon Company
Released: 30th April 2021
Nintendo Switch digital copy provided by Nintendo UK
Your journey in inNew Pokémon Snap begins on Florio Island in the Lental region, where you are tasked to assist Professor Mirror in his ecological survey: researching pokémon in their natural habitat. Your role will involve taking photographs of these wild pokémon and gathering data to send back to Mirror for analysis. You will be supported throughout your expeditions by other research assistants, such as Rita and Phil. While Rita is super helpful and very willing to help you through your adventure, Phil has a thirst for challenge and will develop a rivalry with you, with a promise of friendly competition. Phil travelled to the Lental region with another researcher who will also aid you on your quest, and while I won't divulge this amazing reveal in this review, it was a big surprise to me and left a huge grin on my face.
After receiving your research camera from Professor Mirror, and being shown the ropes by Rita, you will set off on your first research expedition to explore Florio Nature Park in the Neo-One, a pod that can teleport you to far off places, and allows you to get close to pokémon in the wild. It will protect you against the dangerous environments of the Lental region, allowing you to get up close to different kinds of monsters.
Fans who played the original title will find themselves right at home as gameplay hasn't changed a great deal in over two decades. The Neo-One moves on-rails steadily through each environment, letting you snap photographs and take in the stunning surroundings with a 360-degree view. At first, you'll be limited to just zooming in and taking pictures of pokémon as they roam, but as you progress through the game and more areas begin to unlock, new items and abilities will become available to you so you can interact with other pokémon, causing them to behave differently. Despite us living in a modern age compared to the rolls of film we saw in the original, you still only have a finite amount of storage on your camera, seventy-two pictures to be exact! If you use them all up, which is a very real possibility in this game, you'll end your current expedition.
You are able to control the game in handheld, tabletop, and TV mode with an external controller, but for the majority of this game, I explored the Lental region using TV mode, which I felt was the most appropriate way to approach the game, so I could see the environments and my photographs as clearly as possible. Movement is controlled using the analogue sticks, while item and abilities are accessible using the A, B, X and Y buttons. You can zoom in using the L and ZL buttons.  If these default controls aren't for you, there are several other control options that can be selected via the Settings menu.
Once you have completed a research expedition, Professor Mirror will discuss your findings and reveal how many different pokémon you managed to photograph, along with the total number of pictures taken. Each photo is evaluated and given a score based on a number of factors, such as the size, pose, direction and placement. Every photo will earn you between one and four stars, indicating how rare the behaviour of that pokémon was. You can choose your photographs one by one, or have them automatically selected by Mirror. Framing is also very important in New Pokémon Snap, and you will score more highly if the Pokémon is centred, and fits within the picture. Your snaps will be sent to the Photodex, where there will be room for up to four photographs based on the star rating. Accumulated points will go towards your total Photodex Score, which can be compared online with friends, or people across the world.
When your evaluation is complete, you will have the option to modify any of your photographs from that expedition using the re-snap tool, allowing you to make any last-minute adjustments. With re-snap mode, you are able to adjust the brightness, rotation, and the zoom of your pictures to line up pokémon perfectly, and even more advanced tools such as changing the focus size and focal point within a picture, allowing you to take control of your captures and really make your photos shine. It's a great way to correct mistakes from the field, and transform your missed opportunities into something truly special. But be warned! Re-snap mode is only available after each expedition, and once you have returned to your camp, all unsaved photographs will lose their re-snap data.
Fortunately, you will still have the ability to make further changes to them later in the lab through the photo editing tool. Here, you will be able to apply filters, stickers and frames to your pictures, before saving them to your system to be shared via social media or a smart device. You can even connect online and share your creations with other New Pokémon Snap owners. People will be able to rate your photos with Sweet medals, and if someone on your friends list does it, you'll receive ten medals instead of one. I made sure to rate my friends' creations too, we have to be friendly to our fellow researchers, right? I have been very tempted to develop some of these photographs into actual real life photos and create a physical Photodex of my own!
As you go out on more expeditions, you can accumulate points and raise the research level of each habitat, allowing you to unlock new islands and explore during the night time, as well as day. Subtle differences to each of the routes will change as you level up too, allowing you to encounter new pokémon or different behaviours, which will result in more opportunities to complete your Photodex. You will also receive items and upgrades for your camera and the Neo-One. Items include Fluffruit which you can throw towards pokémon to encourage them to eat, or to grab their attention by lobbing one right at them! (Disclaimer: No pokémon were harmed in the creation of this review).
Your research camera can also be upgraded to include a scanner, enabling you to explore the environments even more carefully, and finding hidden secrets such as new routes. Eventually, a melody can also be used to wake sleeping Pokémon from their slumber, or even make some of them dance with glee! Capturing these behaviours will surely give you some highly-rated photographs.
One of the key unlocks in the game however, are Illumina Orbs, which are given to you after discovering the secrets of the Illumina Phenomenon, which is the ability to make pokémon glow and radiate life energy! Locate glowing Crystabloom flowers across each habitat of the game during the night, and eventually, you'll unlock Illumina Orbs for use in that specific environment. Throwing these at pokémon and Crystabloom flowers may give you some interesting results! There are some pokémon that radiate life energy more than others, which are known as Illumina pokémon! These special pokémon are found throughout your adventure, and allow for some spectacular shots! These dwell in specific areas, which can be returned to later to unlock even more secrets.
Speaking of returning to areas later, if you're looking for an extra challenge to really test your photography skills, you should definitely check out the LenTalk Requests. Members of the research team will have questions or challenges around specific pokémon and their behaviours which, if captured on film, will net you some great scores, and even some rewards! For example, I was tasked to feed a Pidgeot, and by doing so throughout the route, I encountered some friendly behaviour, and captured it on film for a fantastic score and rating! You can unlock a selection of new profile icons, stickers and design frames for your photographs this way, and if your aim is to fill your Photodex, this will allow you to make some strong progress towards that goal.
New Pokémon Snap has a varied range of locations to explore, from parks and deserts, to oceans and volcanoes. Despite the repetitive nature of the game, there was always something cool to snap a photo of, whether that was an undiscovered pokémon I didn't witness on my first visit, or a new behaviour. It was also fun to go back to previous habitats and use my new abilities and discover how they impacted pokémon. When you consider that there are over two hundred monsters that can be discovered in this game, it really makes you think about just how different each expedition can be.
In terms of story content, it was fairly light, but enjoyable. It was interesting to discover the different Illumina pokémon across the Lental region, and the stories of Captain Vince and his adventures a hundred years prior. I would have liked to have seen more cutscenes, as the few that do exist in the game are rather impressive.
As someone who enjoys photography as a hobby, I thoroughly enjoyed New Pokémon Snap. It is a deeply pleasant experience, and the sort of game I would want to unwind to after a long day. Each habitat is vibrant and bursting with colour. It lets you witness pokémon in ways you wouldn't normally see, and discovering their various behaviours was hugely entertaining. I had great pleasure taking pictures and sharing them with friends on social media, and editing them with stickers and filters, and I was impressed with the different options the re-snap mode offered, something that could inspire people to take up photography in the real world!
While it wasn't a problem for me personally, people looking to experience this game for themselves may be put off by the repetitive nature of the game, but if you're looking for a chill and relaxing experience that can be played in short bursts, and you want to experience a different side to Pokémon outside the traditional offerings, then this comes highly recommended. New Pokémon Snap is a title that I never thought would see the light of day, and it is welcoming to see that the Pokémon company and their partners are willing to take a shot at bringing back a much-desired title to newer players.
Final rating – 4.5 out of 5
New Pokémon Snap is out now, exclusively for Nintendo Switch family systems.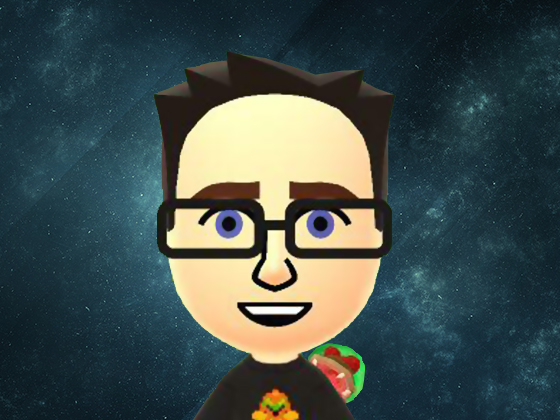 Darren is a huge Nintendo fan from the days of the Gameboy Color and his copy of Pokémon Blue. Over time, he developed a passion for many Nintendo franchises, including Metroid. His favourite system is the Wii.