Earlier in the year, YO-KAI WATCH 2: Bony Spirits and Fleshy Souls made its debut on European shores, inspiriting 3DS systems for a new adventure in Springdale. If you haven't had enough YO-KAI WATCH, then you're in luck, as a new entry into the sequel has entered the equation with Psychic Specters.
Is YO-KAI WATCH 2: Psychic Specters as tempting as Jinanyan's Chocobars, or will it just force you to exclaim "Oh my swirls!" Find out in our review after the break.
YO-KAI WATCH 2: Psychic Specters
Nintendo 3DS Family Systems
Developed by Level 5
Published by Nintendo
Released: 29th September 2017
Screenshots courtesy of Nintendo
Review copy provided by Nintendo
One thing that is worth knowing before you purchase is the fact that Psychic Specters is essentially a combination of both Fleshy Souls and Boney Spirits, but with a bit of a hefty expansion; think of it as a Game of the Year edition sort of thing.
Like the original, Nate, Katy, or whoever you name your character, is enjoying a nice Sumer slumber, when all of a sudden, Kin and Gin, along with another mischievous cohort, causes your Yo-kai Watch to vanish. Not only is your trusty Yo-Kai viewing device gone, but it seems you are also suffering with a mild case of amnesia, completely forgetting all about the Yo-kai you have befriended… or that they even exist.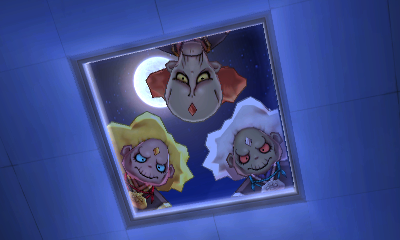 That's not all! Trouble is brewing within the Yo-kai world, and the two factions, known as Bony Spirits and Fleshy Souls, have started to clash, your grandpa is in a bit of a situation in the past, and there's various Wicked Yo-kai threatening the very fabric of time. Time to regain your memories (for the second time), befriend some Yo-kai, and save the world… don't forget to work on your Summer homework too!
I could go on about the main part of the game, but if you have already played Bony Spirits or Fleshy Souls, then it is likely you already know all about it. If you were interested though, feel free to check our review of that by clicking here! For now however, let us delve into what is different with Psychic Specters. Oh, and if you were wondering, you can transfer all your data from Bony Spirits and Fleshy Souls in case you weren't in the mood to redo the entire story again… unlike me who accidentally deleted my save data months ago (cries). Additionally, if you link either of the games together, you can unlock a brand new dungeon too.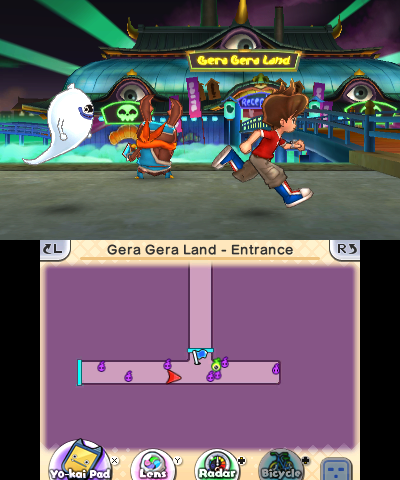 The first major addition is that fact the title has a whole new mini-world to explore. A Yo-kai theme park called Gera Gera Resort. Just how do you get there though? The newly opened Hexpress train line of course, which can only be boarded during the night… assuming you have a ticket. This ghoulish theme park is split into four different attractions (which all have their own stations).
The main attraction, Gera Gera Land has a range of thrilling rides and smaller attractions. Too bad the power is out upon your arrival, I hope they get an electrician down soon. Why not take a relaxing soak at Paradise Springs… what's this? The baths aren't even filled, let's hope they don't think we will fix 'em. Feeling hungry? Then why not head down to Wolfit Down restaurant for some high quality treats. Just don't let the Gargaros chefs catch you sneaking around in the kitchen, otherwise you may end up being for desert! Finally, if it's entertainment you are looking for, the Kabuking throws a great performance at the Kabuki Theatre. Best of all, there's now a starring role in the next performance perfect for a Yo-kai Watch wielding kid.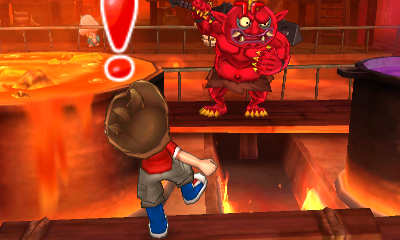 The whole of Gera Gera Resort is pretty big, and the theming is pretty cool, making it a really nice addition to the game. Gera Gera Resort isn't the only new addition to Psychic Specter however, as there are also a handful of brand new quests to complete too. A lot of these quests involve backstories of other Yo-kai, such as Whisper and Dame Dedtime, increasing the lore of YO-KAI WATCH. There are also a bunch of other fun quests to experience too, but I'll leave those up to you to find. Not only are there new quests, but there are also a bunch of brand new Yo-Kai exclusive to Psychic Spectres as well as some brand new bosses. You can also now befriend Wicked Yo-kai too.
Yo-kai Watch Blasters makes a return in Psychic Specters with a brand new mode, Psychic Blasters. The game lets you play as any Yo-kai you have unlocked in beat-em-up style gameplay. You can either go it alone or play with up to three other friends via local wireless play. Your job is to collect as many one orbs as possible during Terror Time and escape. What's new in Psychic Blasters is the fact that you can now access in brand new areas and even attempt to defeat different bosses other than Gargaros. These additions certainly add more variety to an already fantastic side game.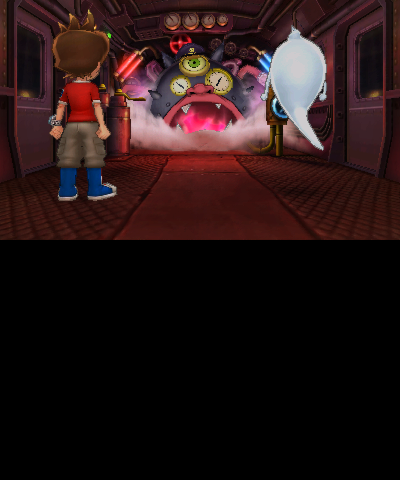 YO-KAI WATCH 2: Psychic Specters is an absolutely fantastic addition to the YO-KAI WATCH 2 world. The huge Gera Gera Resort expansion, along with Brande new Yo-kai, brand new quests, and brand new Blasters challenges really add to the experience, and make it a must have for any Yo-kai fan. Though that may be true, some players may not be willing to pay for a full price for a game they already own which just has extra features, though I believe it is just about worth it. It would've been nice if there were a DLC option though.
If you loved YO-KAI WATCH 2 and want an expansion on the story or missed out on Bony Spirits/Fleshy Souls, then I would definitely recommend YO-KAI WATCH 2: Psychic Specters.
Final Rating – 4.5 out of 5
YO-KAI WATCH 2: Psychic Specters is out now for Nintendo 3DS family systems.
I am a huge Nintendo fan, hence why NintyBuzz exists. I especially love all things Zelda and Metroid. NintyBuzz was started by me back in the Summer of 2014, it started out mainly as a hobby, though the site has gradually grown, and I hope it grows for many years to come!